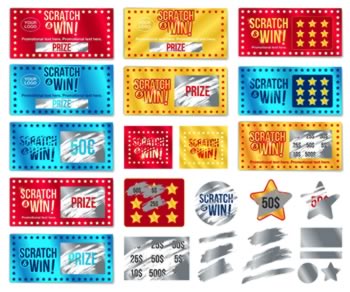 We all love spending our spare change on a Scratch Card, or two, it's a guilty pleasure of many!  There's few things that can match going into your local supermarket with the loose dollar that has been sitting in your wallet, or purse, for days on end, buying a Scratch Card and turning it into profit - even winning just $10 can make your day that little bit better!

And now, thanks to online casinos, and sites like megalotto.com, Scratch Cards are more accessible than ever – plus, you don't get that annoying grey stuff stuck under your nail if you're scratching away at your phone screen! However, have you ever wondered where the idea for the paper-based instant cash game originated from? Well, if you have, read on to find out more!

The creation of the Scratch Card

Whilst Lotteries can be linked right back to the early 1600s, or even earlier, the concept of the Scratch Card is relatively new! Also known as a 'Scratchie' in some parts of the world, the Scratch Card was invented in the 1970s, in the United Stated, by John Koza, who was a computer scientist, and Daniel Bower, who was a marketing expert. It introduced a modern twist to the Lottery in the form of instant cash prizes.

The first Scratch Card

Instant Games was one of the very first scratch-off games. It was set-up by the Massachusetts State Lottery in the '70s and, before long, it was raking in $2.7m a week. That's why it comes as no surprise that the concept caught on soon after it was first launched. Scientific Games Corporation, which was set up by Koza and Bower, were now making Scratch Cards for several state-run Lotteries.

Scratch Cards go on sale in high street shops

For the following 10 years, Scratch Cards could only be purchased from official booths and sellers. However, in the mid-1980s, Cal Tigner, who was an entrepreneur, came up with the idea for clear plastic stands to hold, and advertise, the Scratch Cards on a store counter. This made the game more appealing for customers, and also led to generating purchases alongside their weekly groceries – a guaranteed sale! Tigner's company was soon selling a whopping 200,000 cases a year, and you still see Scratch Cards stored in them today!

The introduction of online Scratch Cards

Whilst the look, and jackpots, of Scratch Cards have changed over the years, the method of playing has mainly remained the same. That was, of course, until the invention of the internet, and the online casinos that followed. This changed the world of Scratch Cards.
In 2005, PrimeScratchCards launched the inaugural website focused solely on the instant win favourite, and it is still going strong today. Nowadays, online Scratch Cards are available on most online casino sites, and offer a much more accessible, and convenient way of playing. You can now easily buy a Scratch Card on your laptop, or cell phone, with just a few clicks of a button from the comfort of your own home. What's not to love?