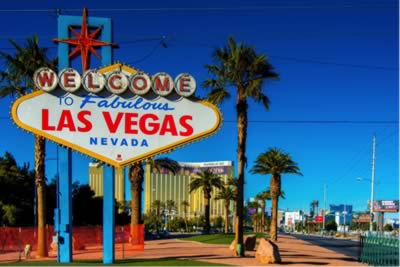 Las Vegas is perhaps one of the most well-known party destinations in the world. Thousands of people flock to "Sin City" to get a taste of the vibrant night-life that is always on offer. From Vegas Slots to buffet dinners, Las Vegas has it all! Let's delve a little deeper into what makes the vibrant capital tick, and take a look at some facts.

A hotel fit for the Gods

The Luxor Hotel captures a certain level of notoriety due to its unmissable thirty-story bronze glass pyramid image, with a Sphinx and obelisk to boot. This iconic building's atrium was completed in 1993, measuring out at a staggering 29 million cubic feet – which could hold nine Boeing 747 aircrafts stacked on top of each other! The regal landmark also has a sharp-shooting spotlight, which aims its beams straight up into the heavens from the pyramid's points, drawing special attention to the amazing creation. It has also been claimed that this spotlight is the brightest in the world. Now, that, we can believe!

An undercover operation

It is a well-known fact that Las Vegas is a hub for all your gambling needs, however it hasn't always been that way, especially when it comes to the law. The city was founded in 1905, with saloons and early-stage casinos beginning to be set up, but in 1910 a federal anti-gambling law was introduced which shut down all betting across board. So, instead of just giving up and finding a new form of business, the activities were merely moved underground until they were finally made legal again in 1931, and Vegas was then allowed to start growing into the mega-resort casino destination we know and love today.

On the home stretch

The 6.8 km stretch of land that is home of the Las Vegas Boulevard is often affectionately referred to as "The Strip". But, if you want to get a little pedantic, it isn't actually located in Vegas! The city of Las Vegas goes as far south as Sahara Avenue, but "The Strip" actually passes through two towns outside of this division – Winchester and Paradise, located in Clark County, Nevada. Eighteen of the world's largest hotels are located on this dazzling road. So, although it may seem like all of the most-wanted Las Vegas locations are all banded together, that's not quite the case. In fact, some of the iconic strip's properties are as much as a mile away from the actual star-studded boulevard!

Let's go for a spin

When you think of gambling in Las Vegas, the chances are that you're imagining yourself sitting at a high-class table, suited and booted, playing off against some high-rollers with brightly coloured chips. Well, if you're wanting to win the big bucks, we suggest you scrap that idea as of now. The biggest wins from the majority of casinos are in fact from the Slots machines! Once known as one-armed bandits, the machines take in over 60% of a Las Vegas casino's earnings, despite the fact that they are required to pay out more often than most.